Best Interior designers in

navi mumbai
At Homely Design Studio, we redefine spaces, crafting unforgettable interiors that reflect your unique style and aspirations. Situated in the vibrant city of Navi Mumbai, our team of passionate and creative designers strives to elevate interior design to new heights, making your dream spaces a reality.
We stand as a beacon of creativity, innovation, and sophistication in the realm of interior design. With years of experience and an unyielding commitment to excellence, we have earned a sterling reputation as one of the best interior designers in Navi Mumbai. We are dedicated to transforming spaces into stunning, harmonious environments that reflect the unique personalities and preferences of our clients.
GET CLOSER TO YOUR DREAM HOME
Give Us Your Details So We Can Call You Back
We believe that interior design is not merely about decorating spaces; it's about curating experiences. Our approach combines meticulous attention to detail with a deep understanding of your needs, preferences, and lifestyle. We merge functionality with aesthetics, ensuring that every corner of your home or workspace exudes elegance and purpose. Our commitment to understanding your vision and translating it into reality is what sets us apart.
Whether you desire a contemporary, minimalist design or an opulent, traditional aesthetic, our interior designers in Navi Mumbai can cater their services to your specific needs. With an unwavering dedication to quality and an eye for detail, Homely Design Studio takes pride in delivering results that exceed your expectations. We are your partners in bringing your dream interiors to life, from conceptualization and planning to execution and project management.
Top Interior Designer in Navi Mumbai
Searching for the epitome of luxury and top interior designers in Navi Mumbai? Look no further! Our team of seasoned and exceptionally skilled designers is here to collaborate with you in crafting a space that impeccably mirrors your distinctive style and refined taste.
As the foremost interior design firm in Navi Mumbai, we specialize in the art of luxury interior design, with a paramount emphasis on conceiving spaces that seamlessly blend functionality with sheer beauty. From the meticulous selection of the perfect color palette to the curation of exquisite furniture and accessories, we leave no stone unturned in our pursuit of ensuring that every facet of your space epitomizes exceptional opulence.
At our core, we believe in turning your dreams of sumptuous living into a breathtaking reality. Our portfolio is a testament to our unwavering commitment to creating interiors that exude grandeur and sophistication. Every project we undertake is a masterpiece in its own right, a testament to the fusion of your desires and our artistic prowess. For the discerning connoisseur of luxury and exclusivity, we are your trusted partner on this voyage of interior design excellence.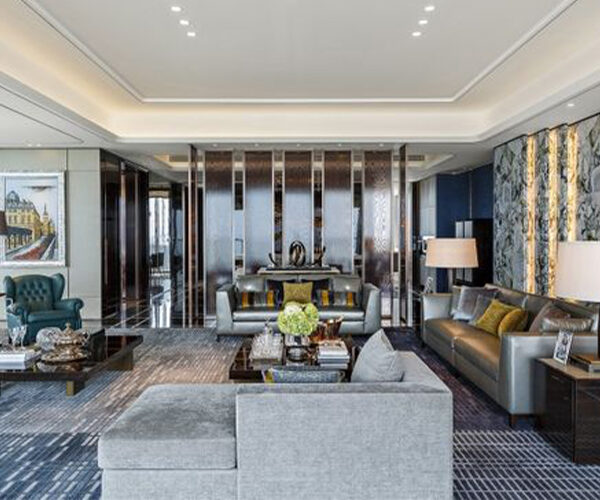 Home Interiors: Creating Timeless, Personalized Spaces
As home interior designers in Navi Mumbai, we sculpt bespoke sanctuaries that resonate with individuality. With a fusion of creativity and functionality, we curate living spaces that encapsulate your essence. Every corner tells a story, reflecting your style, passions, and aspirations. Our designs seamlessly blend comfort and sophistication, harmonizing colors, textures, and forms to create a personalized haven. Whether it's the warmth of a cozy living room, the tranquility of a bedroom, or the functionality of a modern kitchen, we infuse every detail with finesse. We pride ourselves on crafting environments that stand the test of time, embodying a perfect marriage of aesthetics and practicality.
Corporate Interiors: Elevating Workspaces with Purposeful Design
Our
interior design company in Navi Mumbai
redefines the essence of professional spaces, harmonizing productivity with aesthetics. We craft environments that inspire innovation, collaboration, and efficiency. Our designs transcend the mundane, instilling character and functionality into every square foot. From open-plan offices fostering interaction to private suites exuding sophistication, our approach integrates brand identity seamlessly. We focus on ergonomics, strategic layouts, and cutting-edge design elements to create workplaces that motivate and invigorate. Each detail, from furniture to lighting, is meticulously tailored to enhance the work experience. Our commitment lies in fashioning work environments that elevate businesses and energize teams.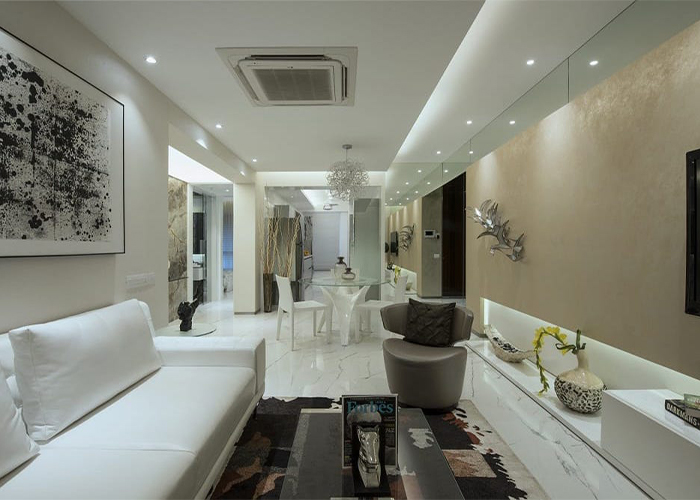 Services We Offer for Home Interior Design in Navi Mumbai
Here are a few more specialized services to add to the list:
Furniture and Decor Sourcing:

We assist our clients in sourcing high-quality furniture, decor items, and accessories that complement the overall design. Leveraging our network of trusted suppliers and artisans, we ensure that each piece selected aligns with the design concept and meets our standards of quality and craftsmanship.

Renovation and Remodeling:

Beyond designing from scratch, we also specialize in renovating and remodeling existing spaces. Whether it's a partial renovation or a complete overhaul, our team offers innovative solutions to breathe new life into your home or office, optimizing space and functionality while maintaining aesthetic appeal.

Consultation and Project Management:

In addition to our design services, we provide consultation sessions for those seeking expert advice and guidance on their projects. We also offer project management services to oversee and coordinate various aspects of the design process, ensuring timely execution and adherence to quality standards.

Lighting Design Solutions:

We offer comprehensive lighting design services, focusing on creating ambiance, enhancing architectural features, and optimizing functionality. Our expertise covers both natural and artificial lighting to bring spaces to life while considering energy efficiency and visual appeal.

Acoustic Design:

Our team specializes in creating environments with optimal acoustics. Whether for home theaters, offices, or commercial spaces, we engineer sound solutions that ensure a balanced and immersive auditory experience, enhancing comfort and productivity.

Art and Artifact Curation:

Our services extend to curating art collections and sourcing unique artifacts to add personality and depth to your spaces. We collaborate with artists and collectors to find pieces that resonate with the design narrative.

Custom Cabinetry and Millwork:

We specialize in crafting custom cabinetry and millwork tailored to fit the unique requirements of your space. Our designs optimize storage, aesthetics, and functionality, ensuring a seamless integration into the overall design scheme.

Virtual Reality Design Presentations:

Our advanced design presentations use virtual reality technology to give clients a realistic and immersive preview of the proposed design, ensuring a deeper understanding and involvement in the design process.
Here are a few more specialized services to add to the list:
Interested in creating a work of art for your home? Get in touch with Homely Design Studio today! Whether you're in Navi Mumbai or its surrounding areas, our interior design firms in Navi Mumbai are poised to bring your vision to life.

Join us in the journey of creating spaces that resonate with your soul.

Your dream space is just a design away.
Our company is located in Mumbai and you can reach us at +91 9833365310 by phone, and by email at info@homelydesignstudio.com